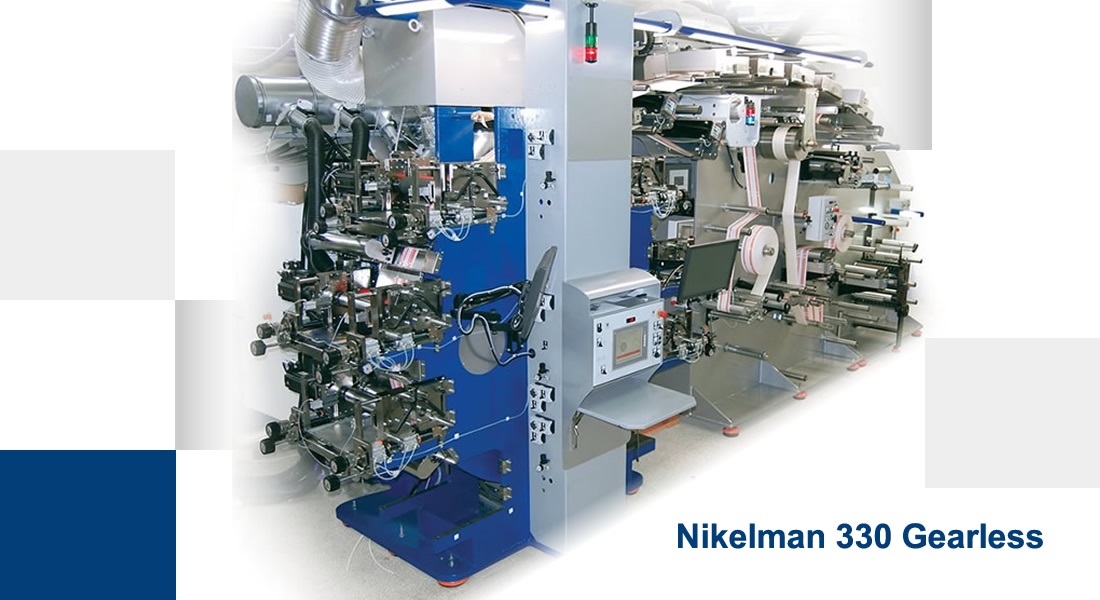 Nikelman® 330 Gearless is designed for high quality overprints, in both – UV technology and with alcohol-based and water-based inks. This solution let us choose the kind of ink, adapted for overprinting requirements, and thus significantly reduce working cost.
Thanks to possibility of quick changing the printing report, changing of anilox sleeves and possibility to save working adjustments in machine's memory, it is possible to print at a low cost even short orders (for example only few kilometers).
Nikelman® 330 Gearless can print with up to 8 colors on both sides of material with high accuracy between first and second side of material. Thanks to this, there is also a possibility to change material color by edge-to-edge printing (on the whole surface).
Nikelman® 330 Gearless can print in non-stop mode (without necessity to stop the machine for changing the casing roll), thanks to unit for sticking the casing on the unwinder. Nikelman® 330 Gearless is equipped with doctor chamber cooling system with temperature regulation, which guarantee ink stabilization during printing and reduction of looses, associated with evaporation of solvents.
Nikelman® 330 Gearless enables labels cutting directly after printing and making overprints on different type of materials width up to 350mm (films, casing, shrinkable materials, paper).
Nikelman® 330 Gearless gives possibility to view and correct working parameters, thanks to servicing the machine over the Internet.
Printing parameters Nikelman® 330 Gearless:
Diameter of central cylinder
2000 mm
Diameter of central cylinder for  configuration 6+6 with possibility enlargement do 8+8
2000 mm
Printing length (report)
range of 260 to 500 mm
Available printing reports
Any number over the range (each 0,01 mm)
Printed material
casing, films, paper
Printing width (max.)
330 mm
Printing width (max.) with a use of turnbar system
2 x 150 mm
Width of printed material (max.)
340 mm
Diamter of printed roll on unwinder (max.)
650 mm
Printing speed (electronicaly limited)*
to 150 m/min
Maximum mechanical speed
to 200 m/min
* Printing speed depends on material type, used inks, volume and lineatures of anilox, temperature and humidity in the room, where the machine in placed.